The 12 Game Gifts of Christmas: 4th Day

On the fourth day of Christmas, my true love gave to me
Four Games for Two, three Dice Sets, two Letters to Santa and a Hanabi co-op card game.
While snuggling on the couch together in front of a roaring fire can make for a warm Christmas, playing games together can make for a fun Christmas. Here are four of our favorite games made especially for two.
Lost Cities is a card game of hard choices if ever there was one. It's one of the first Euro games Tim and I played regularly. Your goal is to make the most profitable expeditions – determined after 3 rounds of play. Expeditions are represented by columns of cards in 5 colored suits. The trick is, you have to play your cards in ascending order after any Investment cards.
When the draw pile is exhausted the game ends immediately. So if you sit on that red 8 and 10 too long, hoping to draw some lower numbers, you may not get to play them at all. Of course, if you start an expedition with the low numbers you already have, there's always the chance you may never accumulate enough points in the column to make a profit. I told you it's a game of hard choices. That's why it's so fun! For more details, read my full review here.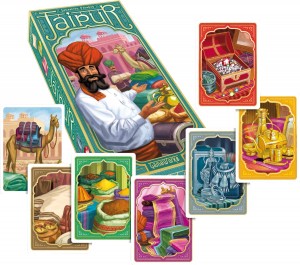 Jaipur is a set-collection card game of trading and selling goods and camels, which features beautiful artwork and interesting game play. In fact, every play you make in Jaipur is itself a trade. Sure you get something good, but every move you make also provides an opportunity for your opponent. Perhaps that's why my husband Tim and I love it so much. You can read my full review here.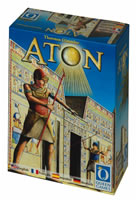 Aton is an abstract strategy game with an Egyptian theme. I'm not usually a fan of abstract strategy games, but for this one, I make an exception. With four ways to win, you have to watch your opponent with a hawk's eye, while also trying to further your own strategy. While the rulebook can be a bit confusing, the game play is actually quite straightforward. You'll have no trouble at all if you let Tim or I teach you how to play and bypass the rulebook altogether or read my full review.
Bohnanza: The Duel provides a new twist on an old classic. In this exciting bean duel, players grow different varieties of beans and harvest them to earn gold coins like in the classic Bohnanza game. However, in Bohnanza: The Duel you can – actually must – gift beans to your opponent.
To increase your chances of winning, you'll of course want to offer your opponent beans you don't want. They might happily take them or they might counter by offering you a different type of bean. Either way, one of you will receive a gift every turn. Now isn't that the spirit of Christmas?
You'll also vie to complete Bohnus cards, which can provide even more gold coins  when their requirements are satisfied – well usually pieces of gold coins anyway. So you both need to keep a vigilant eye on your opponent's bean fields.
Give as good as you get in Bohnanza: The Duel, there can be only one! Winner, that is – I've been rewatching too much Highlander recently. You can play this game for two in about 45 minutes.
Copyright © 2018 by Tina G. McDuffie. All rights reserved.
Photo rights retained by their respective copyright holders.
Related Posts:

Christmas is just around the corner and I've got board games on the brain – again. I like to give and get games for Christmas. This morning I woke up with a variation of the classic Twelve Days of Christmas playing in my head, so I put together this little ditty, followed up by a few details on the games […]
0 comments