10 Games for Easter Baskets

Spring is in the air. So I thought I'd get a hop on Easter with a list of games for Easter Baskets. Now you won't find cute bunnies, a guy risen from the dead or colorful eggs in these games. Thematically they have nothing to do with Easter. What they do have in common is their small stature, allowing them to nestle perfectly in the grass of a regular-size Easter Basket. All of them are packed with fun and they're all sugar free. On to the games.
Cat Lady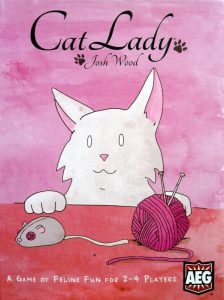 In Cat Lady, players are cat ladies, part of an elite group of people that includes Marie Antoinette and Ernest Hemingway. During the game, you and your fellow cat ladies will draft three cards at a time to collect cat toys, cat food, catnip, adorable costumes, and of course, lovable cats. But watch out! You better make sure you grab enough food for all of the feline friends you collect. Hungry cats aren't happy cats: they'll subtract points from your score in this game. At home they'll just drive you crazy until you feed them.
The player with the highest score wins! Cat Lady supports 2 to 4 players ages 14 and up and plays in just 30 minutes. Retail: $24.99.
EXIT: The Game
The award-winning EXIT series of games, driven by decoder wheels, puzzle books and props, let you enjoy and solve an Escape Room mystery in the comfort of your own home. You and your friends have one hour to solve the mystery using clues, hints and strategy.
There are lots of EXIT: The Game titles you can choose from of various levels of difficulty and subject matter. EXIT: The Game escape room mysteries support 1 to 4 or 6 players ages 10 and up and play in 45 to 90 minutes. Retail cost $14.99.
The Fox in the Forest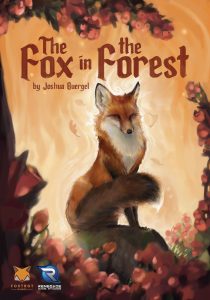 If your Easter Basket recipient loves trick-taking games, but can't often get a group of four together to play, then Fox in the Forest may be right up their alley. It's a trick-taking game for 2 players!
In Fox in the Forest, you'll find the normal ranked- and suited-cards used to win tricks, plus fairy characters such as the Fox and the Witch that have special abilities that let you change the trump suit, lead even after you lose a trick, and more.
You score points by winning more tricks than your opponent, but don't get greedy! Win too many tricks, and you'll fall like the villain in so many fairy tales…
Fox in the Forest supports 2 players ages 10 and up and plays in 30 minutes. Retail cost $14.99.
Hanabi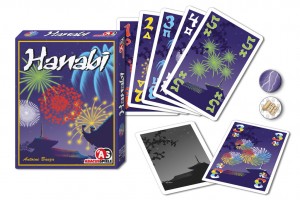 Hanabi, named for the Japanese word for "fireworks", is a cooperative game in which players try to create the perfect fireworks show by playing cards of each color (white, red, blue, yellow and green) in ascending order. The deck consists of five different colored suits of cards, numbered 1-5 in each color. For each color, there are three 1s; two 2s, 3s and 4s; and one 5.
The catch is that players can't see their own cards: you have to hold your cards so that they're visible only to other players. To assist other players in playing a card, you can give them hints regarding either the numbers they hold or the colors of their cards. For example, you could point to a card and tell a player, "This is a one" or "This card is blue." However, when you give a clue, you have to tell them all of the cards that match that property. So if the player has three 1's, you have to point out all three of them, even if you really only want to tell them about one of them. You only have eight clues at your disposal, so use them wisely.
To recover used clue tokens, you'll have to discard a card from your hand instead of giving a clue or playing a card – your other two options on your turn. When you complete a stack by playing the 5, you also recover a clue.
To win Hanabi – and it's certainly not as easy as it sounds – you must work as a team to build the fireworks display with the numbers 1 to 5 – in ascending order for each color – before the deck runs out. If you make three mistakes, you lose.
Hanabi is an awesome cooperative card game for 2 to 4 players ages 8 and up. Play time is about 30 minutes, but don't be surprised if you immediately want to play again.
The U.S. version of Hanabi by R & R Games is currently between print runs. I personally prefer the German version published by AbacusSpiele anyway. I think the cardstock, artwork and tokens are nicer.
Luckily Here Be Books & Games still has a few in stock for $11.99. They'll, of course, provide an English copy of the rules.
Hero Realms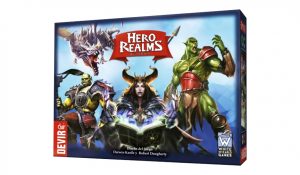 From the makers of the award-winning Star Realms Deckbuilding Game, comes Hero Realms. Hero Realms combines the fun of deckbuilding games with the interactivity of collectible-card-game-style combat. As you play, you'll use gold to add new actions and champions to your deck. When played, those actions and champions generate powerful effects, such as giving you additional gold or damaging your opponent and his champions. If you reduce your opponent's health to zero, you win!
Hero Realms is a complete game for 1-4 players, ages 12 and up, with rules and 144 cards.
To expand the game for more players, add another deck or Hero Realms Character Packs. Hero Realms plays in about 20 minutes and retails for $19.99.
Keyforge: Call of the Archons Archon Decks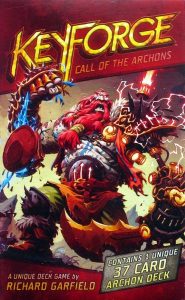 Gather your company of followers with Keyforge: Call of the Archons Archon Decks! Each one-of-a-kind deck is filled with a singular mix of cards, tactics, and strategic potential and cannot be altered.
That's part of the challenge: there's no deckbuilding, card drafting or booster packs.
In Keyforge, power doesn't come from a single card, but rather from how you play your cards off of each other. Each Archon Deck unites cards from three of the Crucible's Houses. Your challenge is to discover and harness combinations and strategies that will leverage your unique team's strengths and skills to win the day! When you're ready for a new mix of cards, buy another deck.
Two players ages 14 and up can play Keyforge in 15 to 45 minutes. You'll each need your own Archon Deck. Retail price $9.99. A starter set is also available that includes tokens and everything else necessary for two players. Unfortunately, it's a little too big for a regular sized Easter basket. The sequel, Keyforge: Age of Ascension is due out the second quarter of 2019.
The Lost Expedition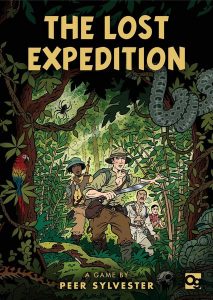 In The Lost Expedition, legendary explorer Percy Fawcett is missing. He was last seen headed deep into the Amazon on a search for the fabled city of El Dorado. Your team has gone in search of Fawcett. But now that you're deep in the scary jungle you don't really care about finding the treasure of El Dorado – or stupid Percy for that matter. The only treasure you care about escaping the perilous jungle with is your life!
To survive your adventure through the jungle, you must make the best use you can of your food, ammunition, and the health of your party. Choose your path carefully to ensure you're prepared for the pitfalls that await you.
You can play The Lost Expedition solo or cooperatively with the goal to simply survive the expedition – not an easy task. Or you can play the game in teams to see which group can escape the jungle first.
The Lost Expedition supports 1 to 5 players ages 14 and up and plays in 30 to 50 minutes. Retail: $29.99.
Love Letter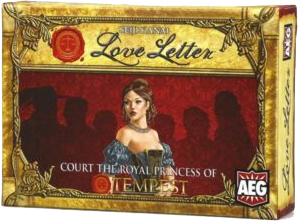 Love Letter is a game of risk, deduction, and luck for 2–4 players. Your goal is to get your love letter into Princess Annette's hands while deflecting the letters from competing suitors. From a deck with only sixteen cards, each player starts with one card in hand and one card is removed from play.
On your turn, draw one card, and play one card, trying to expose others and knock them out of the game. Powerful cards lead to early gains, but make you a target. Rely on weaker cards for too long, however, and your letter may be tossed in the fire! The winner is the last player remaining or the player with the highest card in their hand when the deck runs out.
Z-Man recently acquired the rights to publish Love Letter and is planning to release a new version with new artwork soon. Personally, I don't care for the new artwork all that much. I think the original was fine as it was.
Luckily, we stocked up on the original Love Letter, so you can pick it up now for $9.99 at Here Be Books & Games. They also have sparkly heart tokens to replace the boring wooden cubes that come in the game for $2.99.
Qwixx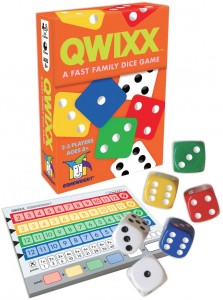 Qwixx is one of my favorite small games. It's so small you can slip into a shirt pocket or purse and take it anywhere. Just 6 dice and a scoresheet, but full of hard decisions and so much fun.
Your goal in Qwixx is to X off as many numbers in each of the four colored rows on your scoresheet as you can. The more numbers you X off in a row, the more points you score for that row. The catch is that you can only cross off a number if it's to the right of all other crossed-off numbers in that row.
So there's no going back. For example, if you X off the red 4 now, you'll never be able to X off the red 2 or 3 later. To X or not to X is an ongoing, sometimes, agonizing decision in Qwixx. Read the full review.
This simple, award-winning roll-and-write game supports 2 to 5 players ages 8 and up and can be played in about 15 minutes. Retail Price: $10.99.
Unlock! Games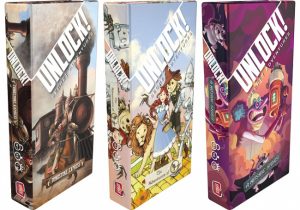 The Unlock! series of games was also inspired by Escape Rooms. Unlock! games, however, are driven by cards and a free companion app. All of the cards are either numbered or lettered.
The Start card gives you some background information, the rest of the cards provide scenes to examine, clues that lead you to other cards, objects to combine and puzzles to solve.
The free app acts as your timer and game guide. When you find a code, enter it into the app and it'll tell you how to proceed. The app can also provide hints and pointers, if you get stuck or aren't sure what to do next. You'll need an Internet connection to download the app, but once installed, you can play Unlock! offline.
There are lots of Unlock! games to choose from. Unlock! escape games support 1 or 2 to 6 players ages 10 and up and can be played in one hour. Retail $14.99.
Summary
So there you have it: ten games that nestle nicely in an Easter basket. Oh, did you think Easter was for little kids? Well, then here's a list of games for kids 8 or under.
Copyright © 2020 by Tina G. McDuffie. All rights reserved.
Photo rights retained by their respective copyright holders.